Picture of local artist Rihanna Alvarado working on her mural for the Chalk Waco festival. Her mural is located in the alleyway across from Cultivate 7Twelve off of Austin Ave.
Photo by Christopher Winston
Happy Friday, Waco!
It's Baylor Graduation! Waco is going to be full of families this weekend looking for things to do. Downtown Waco is going to be the perfect place to find activities for everyone to enjoy.
Creative Waco is partnering with Eastside Market, Lulubelle's, Anthem Stories and Waco Downtown Farmers Market to take over four blocks on Austin Avenue May 14th from 12 p.m. to 8 p.m. and the 15th from 12 p.m. to 6 p.m., spotlighting talented artists, businesses, and local vendors in our community. Chalk Waco 2022 will feature chalk murals created by local artists representing local businesses within McLennan County, a two-day market, live performances, and much more. Bring the whole family out to marvel at the amazing chalk artworks and support local vendors, food trucks, and explore all that Downtown Waco has to offer.
Join Creative Waco for the Every Color Is Beautiful fashion show Saturday night, featuring eight designers and fashion artists who style for the stars and have chosen to be located in Central Texas. This immersive experience will showcase cutting edge fashion (clothing, millinery, jewelry, leather, repurposed, and couture creations), music by Chicano country artist Romeo Vaughn and DJ Matt At Home, the freshly created chalk murals on 7th Street, and curated samples of food and beverages from Waco's culinary artists.
If you are looking to add to your family this weekend, the Humane Society of Central Texas will offer NO COST adoptions this Friday and Saturday.  If you are thinking about adopting, please stop in to the shelter and take a look at the amazing dogs they currently have that are just waiting for a family.  We have big dogs, little dogs, white dogs, brown dogs - lots of great dogs! The Humane Society of Central Texas is open Monday through Friday from 11 a.m. to 6 p.m. and from 10 a.m. to 5 p.m. on Saturdays.  The shelter is located at 2032 Circle Road in Waco.
As always, if you have information you would like to see included in Act Locally Waco (announcements, events, etc.) or ideas for a blog you would like to write, send it to [email protected]
~Debbie Wright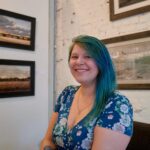 Mission Waco is seeking 5 interns for different program areas including children (elementary age), Youth (middle school & high school), Groups Mobilization, Urban REAP (environmental justice), and Social Services at the Meyer Center The internship will be from June 1 – August 2, and interns will be paid $1800 for the summer. They will be expected to engage for about 35 hours per week. Link to the website that will provide more information:https://missionwaco.org/get-involved/internship/
Students planning to enroll in summer or fall classes at McLennan Community College can take advantage of extended hours being offered by the Advising & Career Services department. Registration is currently open for Summer Minimester through May 11, Summer I through May 28, Summer II through July 9 and Fall through Aug. 20. Advisors are available to meet with students via Zoom on Tuesday and Thursday evenings from 6-8 p.m. by joining the Waiting Room at  https://mclennan.zoom.us/j/91322884695 or going tohttps://mclennan.zoom.us/join and entering meeting ID: 913 2288 4695. Prospective students should visitwww.mclennan.edu/admissions/become-a-student/ to complete the application process for admission to the College prior to meeting with an advisor.
Act Locally Waco Book Club


Up Next... Tuesday, May 3
You Don't Have to Move Out of Your Neighborhood to Live in a Better One 
by Majora Carter
Stay tuned or join the mailing list for details about date, time and location of discussion! 
Do you have friends who want to join our book club?  Sign up to be on the mailing list here.
(Visited 41,112 times, 10 visits today)