Atmos Energy recently donated $5,000 to the McLennan Community College Foundation to help support Paulanne's Pantry, the MCC food pantry.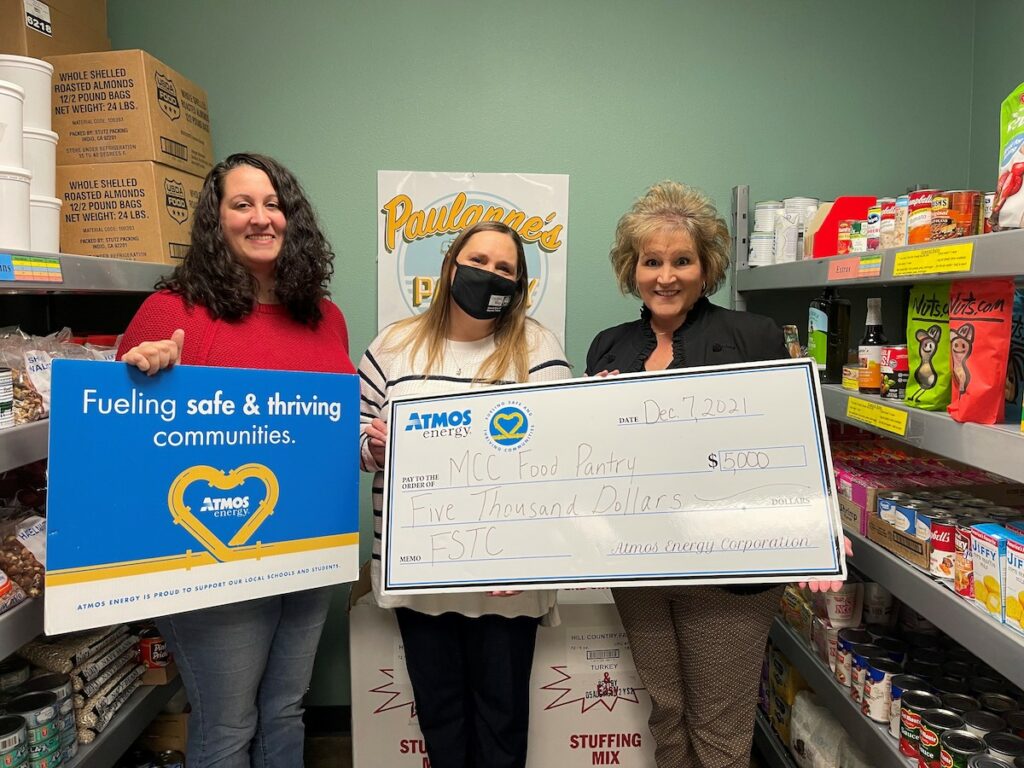 "This gift will do so much to help us serve students who are working hard to support themselves or a family while they attend college," said Kim Patterson, the foundation's executive director. "Hunger is a real issue on college campuses, especially at community colleges where many students live perilously close to the edge of financial security. We are incredibly grateful to Atmos Energy for their commitment to support our students."
The gift will enable MCC's pantry to provide meals for up to 200 students because of the pantry's supply partnership with the Central Texas Food Bank, according Natalie James, Completion Center associate director. Students who access the pantry are typically limited to one visit per month and are provided with coaching to help with accessing other community resources. Each pantry visit provides enough food for three meals for a family. 
Paulanne's Pantry was named in honor of Waco resident Paulanne Ream Hoover, who left a gift to the MCC Foundation in her estate plan. This gift funded an endowment to cover basic costs of pantry operations, as well as establish the first scholarship fund for part-time students at the college. 
The MCC Foundation raises public and private support to fund scholarships, faculty and staff professional development, emergency aid and capital needs at the college. To learn more, visit www.mclennan.edu/foundation or contact Patterson at 254-299-8606 or [email protected].
The Act Locally Waco blog publishes posts with a connection to these aspirations for Waco. If you are interested in writing for the Act Locally Waco Blog, please email Ferrell Foster.
MCC Foundation Executive Director Kim Patterson has been named "Outstanding Fundraising Professional" by the Central Texas Chapter of the Association of Fundraising Professionals.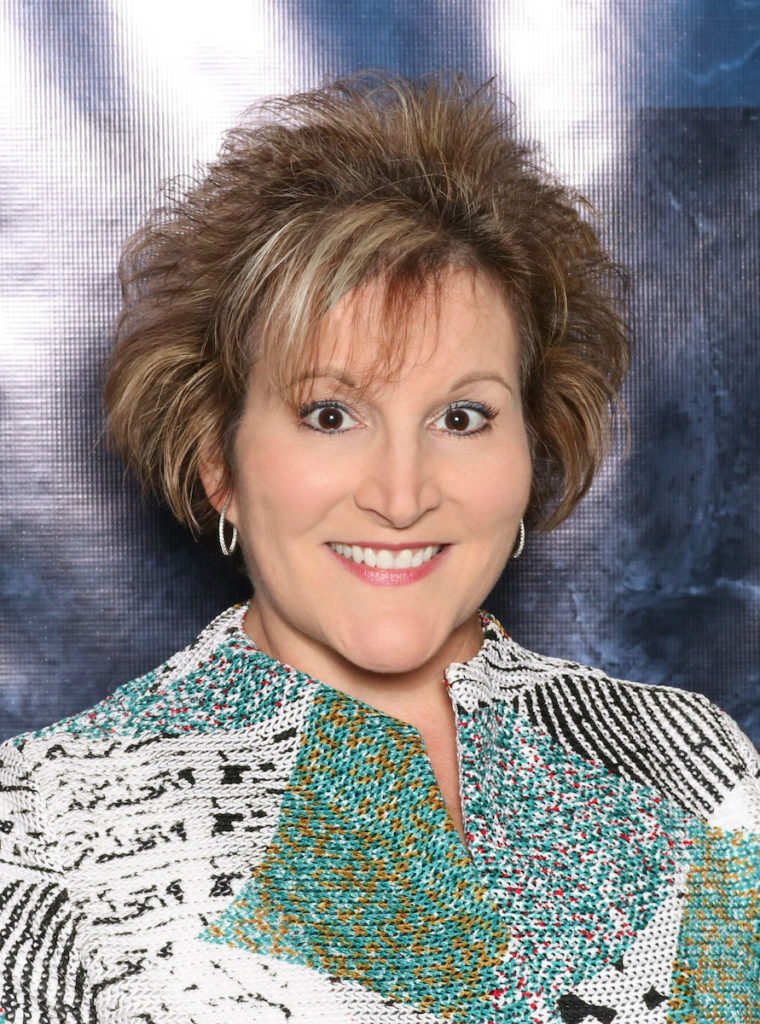 Patterson has served in a variety of roles at McLennan Community College for 26 years and began her role as executive director of foundation in January 2017. She served as associate director of the Foundation 2006-2013.
Since becoming executive director, the foundation has raised an average of $1.3 million in private donor support each year, in addition to numerous grant awards. Patterson has successfully navigated complex capital and real property gifts, estate gifts, major gifts for scholarships and capital projects, and she has established major endowments to support student success.
MCC Foundation assets under management have increased from $16.2 million in 2016 to more than $32 million as of August this year.
Aside from fundraising success, the foundation has implemented creative donor stewardship efforts, including refining the Scholar, Donor, and Alumni Appreciation event to provide intentional connection between major donors and their scholarship recipients. Even during the pandemic, revenue from the Foundation's Hearts in the Arts Gala and Golf Classic reached new fundraising records.
In 2018, the MCC Foundation was named a "Charity Champion" in recognition of its efforts to support the Men of Color Success Initiative at MCC. Since then, the foundation earned a Cooper Foundation grant to support the program and partially fund its first paid coordinator, and has created an endowed scholarship for the program's outstanding participant.
Patterson works with a 27-member board of directors comprising community leaders, and she leads a four-person team in the Foundation and Resource Development areas. She has volunteered for or served in leadership positions in numerous community and professional organizations, including Rotary Club of Waco, Central Texas AFP, Central Texas PRSA, Baylor University Journalism, Public Relations and New Media, Talitha Koum, KWBU Public Radio, McLennan 100 Club and National Charity League.
The Outstanding Fundraising Professional award is presented to an individual fundraising professional who practices his or her profession in an exemplary manner. Nominees must hold a least eight years of professional experience in fundraising, and show evidence of quality of leadership that is effective, creative, stimulating and collaborative. He or she must actively participate in AFP and promote the Code of Ethical Principles, show a commitment to continuing professional development, and exhibit a commitment to philanthropy through voluntary service and financial support of nonprofit organizations.
The Act Locally Waco blog publishes posts with a connection to these aspirations for Waco. If you are interested in writing for the Act Locally Waco Blog, please email Ferrell Foster.
By Kim Patterson
In recent months, the Waco Tribune-Herald has featured two articles about struggling Waco nonprofits that are changing their business models to merge with larger, outside organizations to ensure their sustainability. While their missions remain the same, these changes in local leadership mark a major shift for these groups that have worked tirelessly to serve critical needs in our community for decades. These organizations are not gone, but reading about their situations still feels a little like a death, or at least a serious illness, in the family.
Do a quick Google search for "Nonprofits after COVID" and you'll get a whopping 25 million results. For many, the fallout from the pandemic — closed businesses, skyrocketing unemployment, stay-at-home orders, eliminated fundraising events — has exposed cracks in the underpinnings of the usual ways of doing business for nonprofit organizations.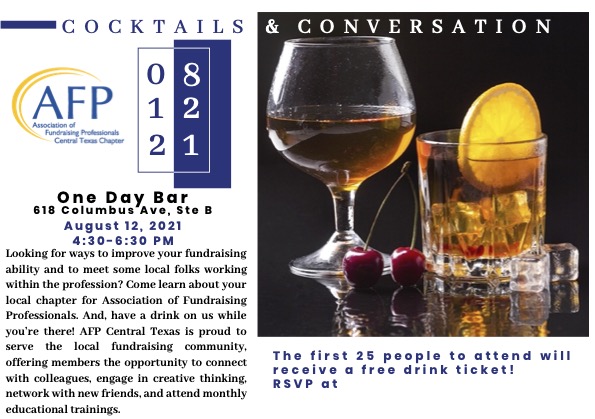 For those that provide direct services like food, clothing, and shelter, the pandemic spurred an increase in charitable giving but also a dramatic increase in need for services. For others that rely on fundraisers to fund operations, a return to in-person events brings hope but the stark realization that it may take years to return to "normal."
It is indeed a new landscape for organizations that rely on fundraising to support their work, and it is fair to say that those who work in the nonprofit sector have faced a difficult and unpredictable year. Fundraising is a tough job even in the best of times. When times are hard like they have been, support from peers is essential.
To this end, the Central Texas Chapter of the Association of Fundraising Professionals is extending its hand to those who seek support with a membership event on Thursday, Aug. 12: Cocktails and Conversation. Anyone who works in the nonprofit sector is invited to learn more about this organization that meets monthly for networking, creative inspiration, and educational training.
Recent trainings have provided solid takeaways about "The Art of Making the Ask," "Using Data for Successful Fundraising," "Diversity and Equity for Nonprofits," and "Virtual Fundraising Events." Membership in AFP Global gives members access to resources and tools from top fundraisers from around the world, an online idea sharing platform, as well as the ability to pursue the Certified Fundraising Executive (CFRE) credential.
If you are a fundraising professional, executive director, staff member, or volunteer working in the nonprofit sector, please join us for Cocktails and Conversation 4:30-6:30 p.m. Thursday, Aug. 12, at One Day Bar in Downtown Waco. Reservations are encouraged, and the first 25 registrants will receive a ticket for a free drink. That covers the cocktails — and we guarantee the conversation will leave you feeling welcome, supported, and inspired to move your nonprofit organization forward in this new day.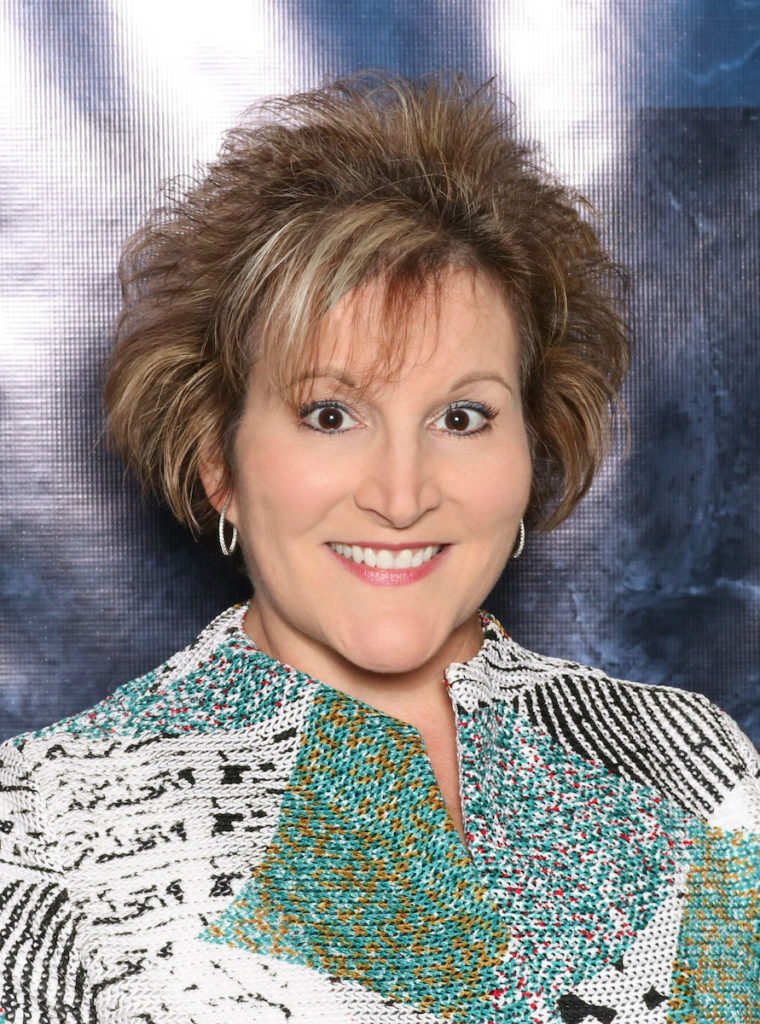 Kim Patterson is president of the Central Texas Chapter of the Association of Fundraising Professionals, and she serves as executive director of McLennan Community College Foundation and the Office of Institutional Advancement. Patterson is a graduate of Baylor University with undergraduate degrees in journalism and marketing and of Tarleton State University with a master's degree in management and leadership. She and her husband, Frank, have two grown children and enjoy camping, fishing, and hiking.
The Act Locally Waco blog publishes posts with a connection to these aspirations for Waco. If you are interested in writing for the Act Locally Waco Blog, please email Ferrell Foster at [email protected].