By James Karney, Director of the Waco-McLennan County Library
The end of the school year is in sight. Summer is upon us: a time of lemonade, vacation trips, summer camps, and sleeping late. But for far too many children and teens, it's also a time when they close up their books and do not read.
I'd like to challenge the people of Waco this summer to Read, Waco, Read!
Read for fun or read for information.
Read a book, read a magazine, read a newspaper. As long as the topic interests you, you'll enjoy it.
Just as exercise keeps your body physically fit, reading keeps your mind mentally fit.
Parents, grandparents, aunts, uncles, older siblings, caregivers – you have a special charge, read to be an example to the children in your life. If they see you reading, you may find them reading.
A number of academic studies over the past 35 years have found that children who participate in summer reading programs maintain their reading skills, need less reinstruction at the beginning of the school year and perform at a higher level on standardized tests compared to students who do not participate in summer reading programs.  In a recent Op-Ed in the New York Times, Frank Bruni lamented the increasing number of children and teenagers who never read for pleasure – currently 22% of 13 year-olds up from 8% of 13 year-olds just twenty years ago.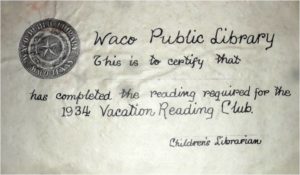 Reading is the key skill that everyone needs to function in society. Reading gives you the ability to communicate, learn, and grow – regardless of your age. For children, it is most important for them to develop the skill and habit of regular reading that they will need for secondary school, post-secondary education and to become lifelong learners and readers.
For nearly 90 years the Waco library has offered a summer reading program for children and in 2014 the Waco-McLennan County Library will offer summer reading clubs for all ages.
Fizz Boom READ! for children
Spark a Reaction for teens and tweens
Literary Elements for adults.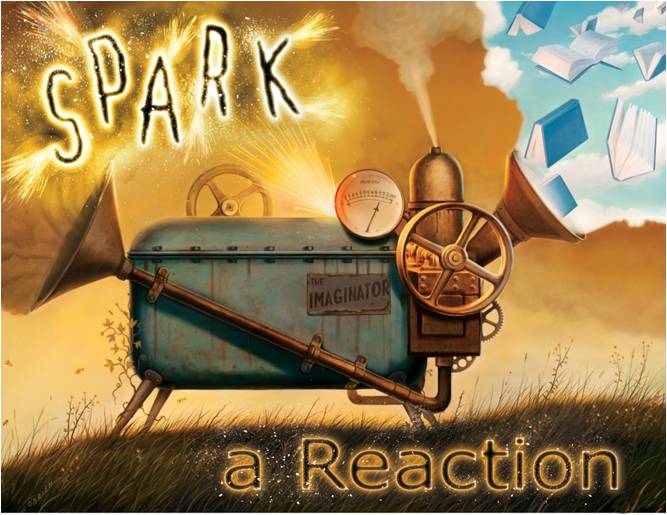 The Children's and Teen/Tween clubs have a science theme that fits into the emphasis being placed on STEM education in schools. Many of the summer programs and activities planned for these age groups have a science or technology component. To learn more about our summer programs visit the library's website at, www.wacolibrary.org
Sign-up for summer reading clubs begins at all libraries on Monday, June 2, and on Saturday, June 7 the Library will host a Family Fun Day from 1-4pm at the Central Library, 1717 Austin Ave. to kick-off our summer programs. Zooniversity will present a live animal program at 1:30pm and there will be fun for all ages including science experiment stations in the courtyard, teens constructing a 5 foot tall paper rollercoaster, snow cones, crafts and face painting.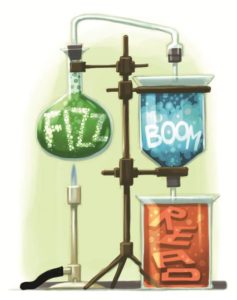 During June and July, support from the Friends of the Library helps provide for weekly Summer Showcase programming programs featuring guest performers at each library:
Tuesday, East Waco at 9:30am and 10:30am
Wednesday, West Waco at 10:30am and 1:30pm
Thursday, Central at 10:30am and 1:30pm
Friday, South Waco at 10:30am and 1:30pm
Family Night programming allows children and parents to attend summer showcase programming in the evening:
Central Library – Tuesdays, June 17, 24 and July 1 at 7pm
West Waco Library – Thursdays, July 10, 17, 24 and 31 at 7pm
The Angel Paws Reading Buddies program returns for another summer and allows children to practice their reading skills by reading to a furry, four-legged friend. These specially trained animal therapy dogs are great listeners who provide encouragement to reluctant and struggling readers while boosting their self-esteem during a 20 minute reading/craft session.  Angel Paws will be at the Central Library on Monday evenings from 6:30-8pm and Wednesday mornings from 10:30am-12:30pm. Contact Vivian Rutherford at 254-750-5952 to schedule a 20 minute session.
For teens and tweens, programs will take place on Tuesday afternoons and Saturday afternoons and will include a variety of hands on science and craft programs. And zombies too!
This past week saw the passing of author and poet Maya Angelou. Of her many, many notable quotes, perhaps my favorite relating to libraries was one during a college commencement address while exhorting the graduates to read voraciously and to never stop learning she stated, "My encouragement to you is to go tomorrow to the library."
This summer come to the library and – Read, Waco, Read!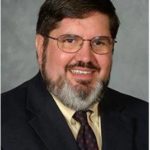 This Act Locally Waco blog post is by James Karney. James has worked in a library since his sophomore year in high school and is the Director of the Waco-McLennan County Library.   He enjoys reading biographies, history, and spy/espionage novels. He has been married to the super amazing and talented Anita Karney for 20 years and their son Jamie will complete his sophomore year of high school on Friday – yikes!
If you would like to write a post for the Act Locally Waco blog, please contact Ashley Thornton by email at [email protected] .