Stay Hydrated and Healthy with Infused Water
by Meilana Charles
With the weather in McLennan County regularly reaching 90 degrees or higher, staying hydrated is essential. Unfortunately for many people staying hydrated means the overconsumption of fruit juices or drinking sugary-carbonated beverages because water may lack a desired flavor.
Well, there's a simple solution: Infused Water.
Infused Water is the combination of water with fresh fruits and herbs. For the past year I've been hooked on Infused Water. I've discussed the different recipes I've tried informally with several local groups, and I even created a mini-program about the benefits of drinking infused water that was presented at Restoration Haven, a local community ministry located in the Estella Maxey Public Housing complex, last year. Even children at several summer day camps have noticed the "leaves" (mint) floating around in my water.
I can't take all the credit for my yummy discovery. Infused Water has been used as a refreshing drink in several cultures. According to Basu (2014), Infused Water may be a derivative of Aguas Frescas, a flavored drink popular in the Caribbean and in Central and South American countries.
Not only is Infused Water refreshing, it's also healthy. Danielle Hairston-Greene, a Program Specialist with the Cooperative Extension Program wrote in her "What's on My Plate" blog that, "There are many health benefits of infused water including appetite control, hydration, immune defense, heartburn prevention, blood sugar regulation and weight management." Hairston-Greene even provided several combinations with their specific health benefits.

Preparation of Infused Water is relatively easy. Once you decide which recipe to use simply cut up the fruit than use a fruit squeezer to extract the juice leaving the pulp. Next, add the juice to filtered water than let it sit overnight. I personalize my creations with fresh Ginger Root and Mint.
Alternatively, some people prefer to cut up their fruits and add then them to the water. Infusion water bottles are also popular.
So the next time the Texas summer heat has you thirsty, pass on the soda, skip the sugar and use your imagination to think up a refreshing and nourishing Infused Water recipe for you and your family to fall in love with.
---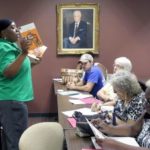 This Act Locally Waco blog post was written by Meilana Charles.  Meilana is a Family and Consumer Sciences Extension Agent at Cooperative Extension Program at Prairie View A&M University. Meilana's priority areas for providing educational resources to McLennan County are general nutrition, money management and parenting. She has a M.S. in Child Development from Texas Woman's University and is a certified Human Development and Family Studies professional through American Association of Family and Consumer Sciences.
The Act Locally Waco blog publishes posts with a connection to these aspirations for Waco. If you are interested in writing for the Act Locally Waco Blog, please email [email protected] for more information.
Sources:
Basu, B. D. (2014). Beat the Heat by Gulping Fruit Infused Water Drink. Positive Health,(218),
Hairston-Greene, D. (2014) The Health Benefits of Infused Water. What's on My Plate blog.