High School Drop-out? Think it will take too long to earn a college degree? New Program at MCC can help!
By Janet Phelps
It can take years for a student to get a GED and finish college. Take, Patty*, for example, who started studying for her GED® in 2014 after dropping out of the 10th grade many years earlier because of a tough situation at home.
Patty completed her GED® just eight months later but continued to work minimum wage factory jobs to support her kids as a single mom.
Last fall, Patty took a CNA class and got a full-time job. She leveraged her newfound stability to take a FastTrack to College class, and then started classes toward her nursing degree at McLennan Community College this spring.
That should be the happy ending to Patty's story­— but it's not.
She still has to complete her remedial class requirements at MCC while working full-time and struggling to make ends meet. She's years away from that salaried job she desperately needs.
The length of time it takes people in Patty's situation to first attain a GED, then complete remedial classes (which don't typically count toward a degree), and THEN complete classes for a degree is often just too much.  Many students drop out along the way. For many, the path is too long to be practical – too many things can go wrong along the way.
MCC is starting a program this spring through a grant from the Higher Education Coordinating Board to help students like Patty achieve their goals. This new Career Pathway option will allow students who dropped out of high school, or who need academic helps to be successful in college, to begin earning college credit more quickly.
Classes begin in May for the first pathway which will result in a Computer Support Specialist Certificate.
The program is designed for students to finish six courses (18 credit hours) and complete their GEDs® in two semesters (Summer and Fall) —bypassing the remedial courses that most students have to take when they start at MCC.  Participating students will also get the chance to work toward achieving a work readiness certificate during the class.
Students will be able to go to work immediately when the courses finish in December, and the 18 hours of college credit they earn will also give them a good start toward earning a one or two-year degree in one of five areas at MCC: Computer Information Systems and Applications, Computer Applications, Paralegal, Administrative Assistant and Medical Office Assistant.
MCC's Adult Education & Literacy Department also plans to partner with Communities in Schools (CIS) to provide paid work experience for students in this program who meet CIS's eligibility requirements.
MCC is seeking to enroll 15 students without a GED® or high school diploma into this program.  If qualified and accepted, MCC will pay for a student's credit classes until the student demonstrates the success that's required to qualify for federal financial aid (See: Ability to Benefit). The program is also open to students who have a high school diploma but who need academic remediation or English language help in college. Students who enroll will get academic and social support plus financial help with textbooks and supplies in addition to free tuition at MCC and free GED education.
The Computer Support Specialist certificate is part of the goal of MCC's Adult Education & Literacy Department to boost the academic and career skills that low-income adults need to get ahead.
Please help us get the word out about this opportunity. To learn more, feel free to contact me.  My email is [email protected]. Or, you can call 254-299-8760 or come to an informational session on Thursdays at 9:30 a.m. or 5:30 p.m. on MCC campus.
---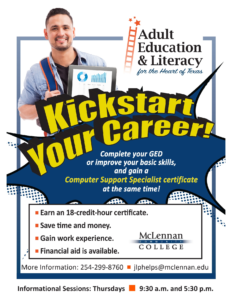 Computer Support Specialist Certificate Career Pathway
May – December 2016
Career Pathway Informational Sessions
Thursdays at 9:30 a.m. and 5:30 p.m.
Room E224, Community Services Center
McLennan Community College
For more information Contact Janet Phelps: [email protected]
---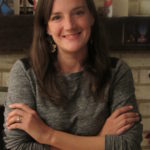 Janet Phelps is the Transition Specialist for Adult Education and Literacy for the Heart of Texas at McLennan Community College. She loves helping students, reading, and running at Cameron Park.  
The Act Locally Waco blog publishes posts with a connection to these aspirations for Waco. If you are interested in writing for the Act Locally Waco Blog, please email [email protected] for more information.
*Patty is not the student's real name. We used a pseudonym to protect this student's privacy.