Business of Health: Pondering Innovation
By Glenn Robinson
When it comes to technology that makes our lives better, the trend has been smaller, faster, and better. When it comes to next generation medical procedures being rolled out nationwide, that trend has largely been mirrored.
Procedures that once took hours, now may take only minutes. Procedures that once involved long, unsightly incisions, are now being conducted with tiny tools that may only require an incision the size of a razor nick.
Perhaps nowhere have these advancements been more pronounced than in heart care and orthopedic medicine. Take, for example, procedures to repair or replace damaged valves in the heart. Ten years ago, these procedures often involved major invasive surgery, a week or more in the hospital, and months of recovery.
Today, many of the nation's leading heart programs – including right here in Texas – offer solutions for certain valve problems that are so minimally invasive, qualified patients can leave the hospital in as little as one day and be fully recovered within a matter of weeks.
Similarly, major orthopedic procedures, particularly in the field of joint replacement, have come a long way since the turn of the century. Advances in pre-procedure imaging, artificial devices, and operational technique have led to artificial hips and knees that feel as good as the original with a fraction of the recovery time.
These and many other innovative procedures are creating better outcomes and giving more patients the opportunity to improve their quality of life. But how do scientific studies performed in labs turn into these actual medical treatments?
Translational medicine transforms basic scientific discoveries into innovative therapies for patients. This kind of research, often referred to as "bench to bedside," seeks to implement evidence-based medicine safely, effectively, and as quickly as possible.
One of the most challenging aspects of translational medicine is gaining widespread adoption of new, evidence-based medical practices. It takes the complete commitment of an organization's top management to recognize and reinforce the importance of this kind of research and its comprehensive, consistent application.
Many leading health care organizations are represented through research institutes, which facilitate translational medicine. These institutions focus on basic science, clinical trials, and healthcare quality-of-care research. They seek to understand the basis of a disease, identify potential treatments or preventive therapies, and enroll patients in research trials.
The institutes' objectives are not only to make new scientific discoveries, but to implement research successes into community-based healthcare practices and then promote proven prevention and treatment strategies throughout the entire organization and greater healthcare community.
These institutes have been responsible for creating several novel therapies right here in Texas and have attracted millions in grants from U.S. and international government agencies to support important research efforts –  turning laboratory research into new standards of care for the entire industry.
Another new trend in the world of research is the use of artificial intelligence, or A-I. A-I can solve complex problems that exceed human capabilities. Through its ability to access vast troves of data, A-I algorithms can both exceed the knowledge of experts, and augment the abilities of non-experts.
A-I already is disrupting transportation, marketing, and financial services, among other sectors of the economy. In healthcare, this technology is gaining momentum and has the potential to significantly alter the industry not only by developing new treatment options, but also by streamlining back office operations.
As care providers look to better engage patients and improve efficiency, many are turning to artificial intelligence to help them succeed. A-I powered medical assistants can book appointments, remind patients to take their pills, monitor a patient's health status, and perform other time-intensive tasks.
A survey of health consumers found 55 percent are willing to engage with A-I and robots for healthcare needs. At a recent South by Southwest conference, Mark Rolston of Argo Design said artificial intelligence and virtual reality will be important parts of healthcare's future.
Likewise, Oscar Salazar, of the app Pager, said that A-I gives nurses "superpowers." He predicts that A-I increasingly will take over decision-making for healthcare triage and diagnosis, dramatically changing the roles of healthcare professionals.
Don't expect your doctor to be going away anytime soon though. Like many technologies, A-I works best when paired with smart, capable people.
 This report, and other episodes, are available at KWBU.org. 
---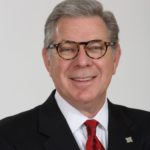 Glenn Robinson is the President of Baylor Scott & White Medical Center – Hillcrest. He has over 30-years of experience in hospital and health care management, and currently serves on several Boards associated with the Texas Hospital Association and the American Hospital Association. In addition, Glenn is Past-Chair and an active member of the Greater Waco Chamber of Commerce, and serves on the Prosper Waco Board.
(Visited 29 times, 1 visits today)