Fruit of the month: Apples
By Paula Solano
As we to transition into the 2020-2021 school year, we can appreciate how our school and health systems work collectively to ensure the safety of students and educators. I find apples, a seasonal fruit often associated with both health and education, appropriate for this season.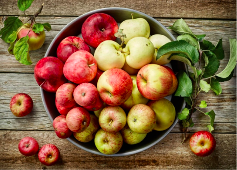 Extended workdays, possible home schooling, and other responsibilities may often lead to missing a meal or making a fast-food run. The U.S. Department of Agriculture's MyPlate provides recipes, tips, and resources to guide you in creating a healthy eating plan. Start simple, download the MyPlate App, an easy-to-use app that will help guide you and track your progress.
Apples might be the essential fruit to have in a pinch. In fact, apples can be enjoyed during breakfast, lunch, or dinner or as a perfect on-the-go snack. When selecting apples, choose those that are firm, with intact stems, and they should smell fresh.
Wash your hands as recommended by the CDC, clean contact surfaces, and thoroughly rise apples to remove any dirt before you pack, enjoy, or use while preparing a meal. Refrigerate apples in a plastic bag, away from other fruits and raw meats for up to three weeks.
Not only are apples yummy, they are saturated fat free, low in fat cholesterol, and sodium free. Apples are rich in fiber and phytochemicals (compounds produced by plants).
Enjoy these tasty apple recipes!
Apple Cinnamon Yogurt Muffins (Kid Friendly)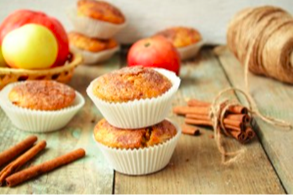 Serving: 24
Nutritional Information: Calories: 217, protein: 3g, fat: 10g, carbohydrates: 29g, fiber: .6g, sodium: 230mg, cholesterol: 44mg
Ingredients
1 ¾ cups sugar
3 cups all-purpose flour
3 1/2 teaspoons baking powder
1/2 teaspoons salt
1/2 teaspoon grated orange zest
1/4 teaspoon ground nutmeg
1 cup (2 sticks) butter or margarine
1 cup grated Braeburn or Golden Delicious apple
1 container (8-ounce) low fat vanilla yogurt
2 large eggs, beaten
1 teaspoon ground cinnamon
Instructions:
1. Heat oven to 350° F. Grease 24 3-inch muffin pan cups or line with paper liners. In large bowl, combine flour, 1 cup sugar, the baking powder, salt, orange zest, and nutmeg. With pastry blender or fork, cut in 3/4 cup (1 1/2 sticks) butter until mixture is crumbly.
2. In medium bowl combine apple, yogurt, and eggs; add to flour mixture, stirring until just combined. Spoon batter into prepared muffin cups and bake 20 to 25 minutes or until centers spring back when gently pressed.
3. Cool muffins in pan 5 minutes; remove from pan and cool until able to handle. Meanwhile, melt remaining 1/2 stick butter. In small bowl, combine remaining 3/4 cup sugar and the cinnamon. To serve. brush tops of muffins with butter and roll top in cinnamon-sugar mixture.
4. Enjoy!
Golden Apple Oatmeal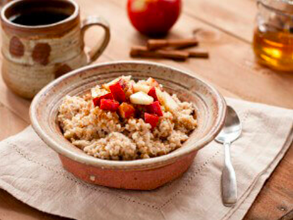 Servings: 1
Nutritional Information: Calories: 122, protein: 4g, fat: 2g, carbohydrates: 27g, fiber: 3g, sodium: 331mg, cholesterol: 0mg
Ingredients
1/2 cup diced Golden Delicious apple
1/3 cup apple juice
1/3 cup water
1/8 teaspoon cinnamon
1/8 teaspoon nutmeg
1/8 teaspoon salt (optional)
1/3 cup quick cooking oats (of your choosing)
Instructions:
1. In small pot, combine apple, apple juice, water, cinnamon, nutmeg, and salt (if desired); heat to boiling. Stir in oats and cook 1 minute. Cover and let stand two minutes before serving.
2. Enjoy!

Paula Solano is a Master in Public Health student at Baylor University and certified Community Health Worker who is volunteering at the Texas A&M AgriLife Extension Service. A Waco native, she is passionate about serving her community, particularly underserved and underrepresented residents.
The Act Locally Waco blog publishes posts with a connection to these aspirations for Waco. If you are interested in writing for the Act Locally Waco Blog, please email [email protected] for more information.
(Visited 69 times, 1 visits today)