At the last Waco City Council Meeting, we welcomed back Mayor Dillon Meek, Council Members Andrea Barefield (District One), Alice Rodriguez (District Two), and Josh Borderud (District Three), as they were sworn in for new terms. District Four Council Member Kelly Palmer was also named as our Mayor Pro Tem by a vote of the council. We look forward to continuing the great work of this council as they lead us forward into Waco's bright future!
Happy Friday, Waco!
May is Mental Health Awareness Month. It was started to reduce the stigma associated with mental health and to encourage those who need help to seek it—it's a sign of strength, not weakness. Spend some time this week to take care of yourself, build community, and get active!
If you or someone you know is looking for emotional support, please contact the COVID-19 Support Line through phone: 1-833-986-1919 or text: 832-479-2135.
Join Urban REAP for their Workshop Series: Gardening for Wildlife Saturday, May 21st from 11 a.m. to 12:00 p.m. at 1509 North 15th Street. Attend this workshop to learn from Master Naturalist Rachel Mims on how to attract pollinators, birds, and other wildlife to your neighborhood.  They will discuss different plants and practices, and look at examples at Urban REAP!

Saturday is the Opening Exhibit for DC SUPER HEROES: Discover Your Superpowers at the Mayborn Museum. In this traveling exhibit, guests can save the city, vie with villains, and work as a team to restore order across the DC Universe. Beat the crowds and be the first to play! Mayborn Members can enjoy an exclusive hour in the DC SUPER HEROES: Discover Your Superpowers—a great perk of membership! Member-only hours are from 9 a.m. to 10 a.m. on May 21st! Wear your favorite superhero costume on opening day and join the costume contest at 11:30 a.m. They'll judge the best costumes between ages 0-6, 7-12, 13 and up! This exhibit is free with the price of admission.

Monday, May 23rd The Southwest Collection at Texas Tech University  (Monthly CTGS Meetings) will be from 7 p.m. to 8 p.m. at the West Waco Library at 5301 Bosque Blvd for an evening of family history and the importance of archives. Join Dr. Monte Monroe, historian & archivist for a presentation on the Southwest Collection at Texas Tech University. Dr. Monroe will discuss genealogical preservation at the university level, the great oral histories of Texans, heritage groups and of course dive a bit into the richness of the Southwest Collection at Texas Tech University.   He will also talk about how to preserve the archive you have in your own home.
As always, if you have information you would like to see included in Act Locally Waco (announcements, events, etc.) or ideas for a blog you would like to write, send it to [email protected].
~Debbie Wright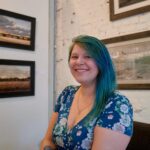 Mission Waco is seeking 5 interns for different program areas including children (elementary age), Youth (middle school & high school), Groups Mobilization, Urban REAP (environmental justice), and Social Services at the Meyer Center The internship will be from June 1 – August 2, and interns will be paid $1800 for the summer. They will be expected to engage for about 35 hours per week. Link to the website that will provide more information:https://missionwaco.org/get-involved/internship/
Students planning to enroll in summer or fall classes at McLennan Community College can take advantage of extended hours being offered by the Advising & Career Services department. Registration is currently open for Summer Minimester through May 11, Summer I through May 28, Summer II through July 9 and Fall through Aug. 20. Advisors are available to meet with students via Zoom on Tuesday and Thursday evenings from 6-8 p.m. by joining the Waiting Room at  https://mclennan.zoom.us/j/91322884695 or going tohttps://mclennan.zoom.us/join and entering meeting ID: 913 2288 4695. Prospective students should visitwww.mclennan.edu/admissions/become-a-student/ to complete the application process for admission to the College prior to meeting with an advisor.
Act Locally Waco Book Club


Up Next... Tuesday, May 3
You Don't Have to Move Out of Your Neighborhood to Live in a Better One 
by Majora Carter
Stay tuned or join the mailing list for details about date, time and location of discussion! 
Do you have friends who want to join our book club?  Sign up to be on the mailing list here.
(Visited 41,412 times, 6 visits today)