by Liz Ligawa
Can you remember a time when you were not believed? As you think back to that time, how do you remember it impacting you? Was doubt able to sneak in and influence the credibility of your own story? Perhaps, as a response, you became a little more selective with what you shared, or at least, with whom you shared. I posed this same question to about 50 undergraduate students in a Human Diversity class where I was the guest lecturer. What we learned, as a class, of these kind of events was telling: incidents where our experiences were invalidated by doubt or unbelief began to invisibly shape how we related to others, but more significantly, we tended to wrap our truths with silence as we learned to navigate a world that had little room for our perspective.
This simple exercise I conducted with that class still resonates with me. It speaks of how one human experience can shape so many others. Although the examples shared were relatively light in nature, and were part of common childhood experiences, the impact of those incidents on the future behavior of these truth-sharers was great. I was not expecting behavioral changes to be the result of these incidents, but they were.
In our work, we speak a lot about collaboration. Our current posture toward collaboration comes from the realization that the work, and the outcomes we hope to achieve from this work, cannot happen without the collective work of many hands. In our urgency to approach the work with these many hands, however, I have observed a common forgetting (of sorts). We seem to forget that those hands are connected to people, and people function through relationships. In her book titled, Teaching Peace: A Restorative Justice Framework for Strengthening Relationships, Dr. Beverly Title alerts us to pay attention in this way. "Every relationship is valuable, no matter how insignificant it may first appear, as it is a potential window to wisdom," (Title, 2011). Sometimes in our ambition to work, we forget that the hands are connected to people, and that it is in those people where the wisdom for the work is contained.
The Aspen Institute recently published a helpful review of community change initiatives (CCIs) over the last two decades so that the work going forward can be better informed. In their publication, the voice of relationship was also heralded as a necessary component toward change: "Comprehensive change in the most disinvested communities required effective working relationships across a multitude of community, private, and public institutions. Since poor communities had long been disconnected from outside entities, the key to sustained long-term change was to build cooperative connections," (Kubisch, Auspos, Brown, & Dewar, 2010). In social work, we consider human relationships central to change. This is our value. So, how does this play out?
When joining the work of marginalized communities, or communities experiencing significant change, I pay attention to the role that disenfranchisement, or disconnection, has played in the life of the community. Feeling unheard is a great suffering. Not only is it difficult navigating systemic barriers that function oppressively, but it is also not the first thing that people want to talk about. Life is life, and most of us are busy just going about it. So, as I go about learning what life is like, I look for the many ways available to build the trust requisite to connect the hands to the work. Sometimes it means I show up. Sometimes it means I share. But most often, I find that trust is built on an ordinary path that many have left grown over. The path to trust is simply believing the truth that is entrusted to you. And, in the dignity of those every day moments, the work finally becomes shared, and perhaps our investments of hope fulfilled.
---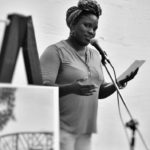 Elizabeth Ligawa is a recent graduate from Truett Theological Seminary, and the Diana R. Garland School of Social Work, earning both her Master of Divinity, and Master of Social Work. Though her prized role is being a mother to her dear son, Elijah, Liz has a love for encouraging people to come together in ways that engender healthy communities. Her role as the Director of Community Engagement at Prosper Waco allows her the room to work in and among the many faces of her beloved Waco community. She may be reached at [email protected].
The Act Locally Waco blog publishes posts with a connection to these Aspirations for Waco. If you are interested in writing for the Act Locally Waco Blog, please email [email protected] for more information.