(Tami Nutall Jefferson, a married mother and grandmother, is going back to school and she has invited us all along to enjoy the ride.  For more posts in this series, click here: Tami's Big Do Over.  –  ALW)
By Tami Nutall Jefferson
As some people are rounding the bases of Prom 2018, some of us are gearing up for Graduation 2018. The sleepless nights studying, the exam crams, the tuition payments, the juggling like we're professional jugglers – it's ALL about to come to an abrupt end. We're now being launched in to the 'real world' of full-time employment, student loan payments, and a different kind of work-family juggling. For some of us, this road trip has taken almost half a century. Sadly, this season is not mine – but joyfully, it belongs to my guest, Terronga Weaver.
Terronga Makes Her-story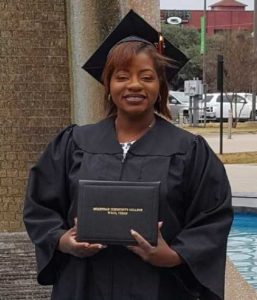 Terronga Weaver is repping Tarleton State University's graduating class of 2018 with her Bachelor's degree in Human Resources. Terronga is a Waco native, mother of 4, heir to the Jockey Club 100-year legacy – and, 45 years young. As Terronga readies to graduate on May 12th, I had the opportunity to hear her story about her life and her future. I'll let you guys in on a little bit of it here.
TNJ > The floor is yours. What do you want to say to the people right now?
TW > It's like Murphy's law, the closer I get to finishing, the harder it gets. Different things pop up, and everything that can go wrong, will try to. There will always be challenges.  People will always tell you to quit, BUT just know that you will be DYNAMIC when all this is finished.
TNJ > What was the beginning for Terronga?
TW > This journey started 22 years ago. I had just moved into Estella Maxey projects with 2 kids. Now, I have 4 kids, and 1 grandbaby. I was unemployed but starting college at MCC as part of the self-sufficiency program. I had to remind myself that low-income does not mean low-class. I eventually started working too. And not really knowing what I was doing to myself, I quit MCC with just 1 semester left to graduate and went on to work two [simultaneous] jobs in the nursing and fast-food industries for the next 10 years.
TNJ > Can you give us a little insight into life as a mom during this time?
TW > It was hard as a mom because of the judgment. You're a bad mom if you work all the time. You're a "welfare mom" if you're at home taking care of your kids all day. Meanwhile, dads get no judgement for not being there. I had a hard time finding the balance or confidence in this particular situation.
TNJ > What was your lightbulb moment?
TW > I was working 2 jobs – typically from 8am to 11pm. One day I was late for one of my 6am shifts…and got wrote up! I realized at that moment, that for 10 years, I had been so busy making somebody else's brand better, but I had lost my own brand at home with kids. My 2 younger kids (14 & 18) know me as the 'soccer mom', but my 2 older kids (26 & 27) just know me being at work. I lost their childhood and knowing who they are. I made up my mind that if I have to lose everything to start over, I will.
TNJ > Oooh, what happened next?
TW > I went to talk with MCC and Tarleton to see about finishing my education. That was in 2015 or 2016. Amazingly, they took every credit I had [earned], and I cried. I worked hard and had awesome people to help me out along the way. In December of 2017, I graduated from MCC with my Associate's in Applied Science, and in a few weeks [from now], from Tarleton with my Bachelor's in Human Resources. I took 5 classes last semester and 5 this semester, while still working at Home Depot, taking the weekly WIBO class with you at City Center Waco, and helping my mom run the Jockey Club in East Waco…and still being a mom.
TNJ > What pushed you through?
TW > You have to know your why. I, literally, look in the mirror and tell myself "I'm worth it." Today's sacrifices will pay off. You have to be your own biggest cheerleader. Take it slow if you have to. Just know that school will always work for you. Someone will always help you. There are thousands of reasons why you shouldn't, but you only need one reason why you should. Mine was because I'm worth it.
TNJ > Tell me how this feels – graduating – because I can't imagine right now.
TW > An interviewer told me I have options now. I don't have to settle. Again, I cried. NOW, I am educated, well-informed, and I know my worth. I can have you design me the house I really want. I don't have to live in the projects. There's so much out there for me now. It's bigger than surreal. I finally broke through my glass ceiling. Now I have to create another one to break through.
TNJ > Now you're ready to move forward. What does your dream look like in the future?
TW > I'm a community person. The thing that hurts me most is to see our veterans come home with PTSD or be homeless and suffer. My dream would be to create a nice place for them. My bed and breakfast where they can return from tour and decompress and get reintegrated into American culture. My mom was a military nurse, so she can care for them, and I can provide them a safe, low-key place where they can calm their minds and bodies before going back to their "normal" lives and families here.
There's so much more to Terronga, with her passion for human resources, loving on and engaging with people, managing businesses, I can't fit it all here. If you want to know more about her, employ her, or help her make the dream possible for local veterans, email her at [email protected]
---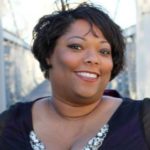 Tami Nutall Jefferson is an older, non-traditional student with a professional real estate background. Tami begins her first academic year at Texas A&M University pursuing a Bachelor's Degree in Urban Planning and Land Development while commuting between Waco and College Station. Her hope that every Wacoan – from all corners – can engage in and contribute to the growth and success of the city. You can connect with Tami at [email protected] or on Facebook at https://www.facebook.com/tami.nutall1.
The Act Locally Waco blog publishes posts with a connection to these aspirations for Waco. If you are interested in writing for the Act Locally Waco Blog, please email [email protected] for more information.